—> WE ARE NOT SOLD OUT! TICKETS WILL BE AVAILABLE AT THE GATE FOR $41!
2012 3rd Annual Paella in the Park
presented by Wineries of Old Mission Peninsula
Friday, August 3, 2012
4:00 p.m. – 9:30 p.m.
at Clinch Park in Traverse City, Michigan
The weather calls for 85º and sunny – with a full moon to boot!
This is a strictly 21+ event.
Tickets will be available at the door for $41 (advance tickets are no longer available) and include*:
A commemorative wine glass
(5) wine pour tokens
(3) 4 oz. servings of paella – vegetarian and meat options available
All festival entertainment
Additional food and wine tickets available for purchase at the event
A dollar from every ticket will benefit Traverse City's Bay Front Parks
Featuring
SPIN DOCTORS
Grupo Ayé
KaiserCartel
Andrew Sturtz Trio
Winery/Restaurant Pairings
Each of the seven chefs will be making 3 paellas over the course of the evening – 1 vegetarian, and 2 meat options.
Black Star Farms === Hearth & Vine
Bowers Harbor Vineyards === Aerie Restaurant & Lounge at Grand Traverse Resort & Spa
Brys Estate === Mana
Chateau Chantal === The Towne Plaza
Chateau Grand Traverse === Siren Hall
Peninsula Cellars === Mission Table
2 Lads === Bay Town Kitchen

What is Paella? And how is it pronounced?
Paella (pie-yay-a) is a Valencian rice dish that originated in its modern form in the mid-19th century near lake Albufera, a lagoon in Valencia, on the east coast of Spain. Many non-Spaniards view paella as Spain's national dish, but most Spaniards consider it to be a regional Valencian dish. Valencians, in turn, regard paella as one of their identifying symbols. There are three widely known types of paella: Valencian paella (Spanish: paella valenciana), seafood paella (Spanish: paella de marisco) and mixed paella (Spanish: paella mixta), but there are many others as well. Valencian paella consists of white rice, green vegetables, meat (rabbit, chicken, duck), land snails, beans and seasoning. Seafood paella replaces meat and snails with seafood and omits beans and green vegetables. Mixed paella is a free-style combination of meat, seafood, vegetables, and sometimes beans. Most paella chefs use calasparra or bomba rices for this dish. Other key ingredients include saffron and olive oil.
Cooking Authentic Seafood Paella from La Paella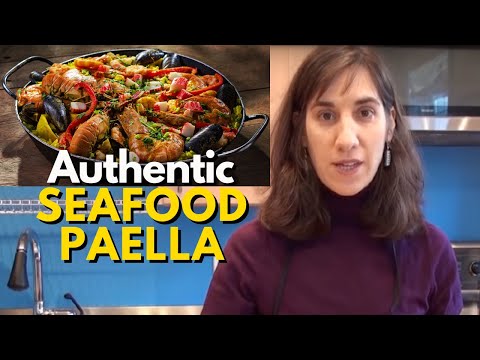 *Important Ticket Information:
* Ages 21+ only for this event – no exceptions, please (no infants, toddlers, kids, or teens – thanks for your understanding). Please bring your ID with you and be prepared to show it at the door. Thank you!
* Advance ticket price does not reflect outlet or online handling fees. We encourage you to purchase your tickets in advance. Even though we advertise a "Day Of" ticket price, there is always a chance it can sell out before hand.
* Refunds and Exchanges – ALL SALES ARE FINAL. Please review ticket ordering information carefully prior to ticket purchase. Neither Brown Paper Tickets nor the Wineries of Old Mission Peninsula or Porterhouse Productions will refund or exchange tickets, unless event is canceled or rescheduled.
Hotel Options
Grand Traverse Resort & Spa
Bayshore Resort
Park Place Hotel
Holiday Inn West Bay
Cambria Suites
More options available at Traverse City Convention & Visitors Bureau's website under "LODGING"

Find the Paella in the Park event on Facebook!